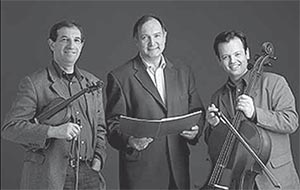 Claus-Christian SCHUSTER (piano)
Amiram GANZ (violin)
Alexander GEBERT (cello)
S ince its "official" debut during the Salzburg Mozart Week (January 1994), the Altenberg Trio Wien — one of the few full-time piano trios in the world of chamber music — has in over 900 performances earned the reputation of one of the most daring and consistent ensembles in this category. Its repertoire comprises, in addition to a large number of works from directly related fields (piano quartets & quintets, duos, triple concertos, vocal chamber music) no less than 250 piano trios, among them numerous pieces that the Altenberg Trio suggested and first performed itself.
Simultaneously with its foundation, the ensemble became a trio in residence at Vienna's Gesellschaft der Musikfreunde, annually performing a cycle in the Brahms Saal for that society; as a trio in residence at the Vienna Conservatory, the trio runs a seminar course for chamber music majors. Among the Altenberg Trio's other regular activities are the International Brahms Festival at Muerzzuschlag ( Austria), whose artistic director is Claus-Christian Schuster, and the Musical Academy at Pinerolo, Italy, where the trio offers monthly master classes for young ensembles.
At the conferral of the Robert Schumann Award of the city of Zwickau in 1999, the Altenberg Trio succeeded in continuing the "Austrian" tradition of this award; the immediate reason for its success was the recording of all Schumann piano trios that had just been released. The Altenberg Trio's subsequent recording (Ives, Copland, Bernstein) in April 2000 already won the Edison Prize in Amsterdam.