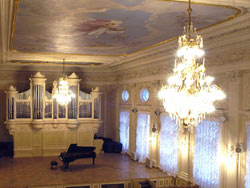 For the past five years the Conservatoire's home on Theatre Square has hospitably thrown open the doors of its auditoriums and concert halls each autumn for the participants and guests of its International Conservatoire Week Festival — young musicians and their instructors from various Russian cities, and from foreign countries both near and far. For five years Russia's oldest higher institution of music education has been expanding the borders of countries and continents, eliminating language barriers, and creating a special "musical civilization" — a creative community of the world's higher institutions of music education.

How is the professional musician — composer, performer, pedagogue, researcher — as a personage formed, and what role does school play in the formation process? Do we need to save classical music in our complicated world, or will the music, on the contrary, help us to save the world's beauty? How is the world-acclaimed Saint Petersburg musical "school" staying alive, and how does it integrate
into the modern artistic-historical context?

The International Conservatoire Week attempts to answer these and many other questions. Five years — it is our first celebration and opportunity to make our first reviews…

HIGHER INSTITUTIONS OF MUSIC EDUCATION PRESENTED ON THE FESTIVAL ANNOUNCEMENT

PARTICIPANTS OF THE CONCERT PROGRAMS 2001 - 2005

APPLIED RESEARCH SECTION REVIEWS 2001 - 2005

The Festival participated twice in the "Best International Project of the Year" competition under the direction of the Governor of Saint Petersburg:
2002 Prize Winner (III Place) in the category "Best Musical Project"
2003 Competition Champion (I Place) in the category "Best Musical Project"

Five conservatoire festivals equals tens of thousands of listeners, experts and music lovers, applauding the young and world-acclaimed musicians; it is hundreds of conservatoire affiliates, students from Saint Petersburg's higher institutes of creative education, musical colleges and schools, attendees at research conferences, seminars, open lectures, and professors' master classes.

The Festival is alive and headed for the future…

Best wishes, International Conservatoire Week!