THE AURORA PIANO QUARTET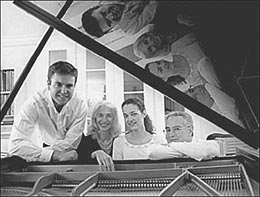 The Aurora Quartet, founded by Ms Julia Severus in 2002 is an international ensemble of pianists that takes up a great tradition: in the music circles of the aristocracy and in the concert life of the 19th century, music for four pianists was highly popular. Many ambitious and brilliant compositions and transcriptions were being created. Many virtuosos were enthusiastic about performing music for eight hands: It is well known that Chopin and Liszt used to perform to perform music for eight hands with colleagues, as they did, for example, in 1838 in Rouen playing such a transcription of Beethovenĺs 8th symphony. The repertoire of the Aurora Quartett consists of both original compositions from the 19th to the 21st century and a special focus on contemporary composers and transcriptions of works for orchestra.
The ensemble has made its successful debuts at the Bayreuth Easter Festival, the Musikfestspiele Potsdam-Sanssouci, the Konzerthaus Berlin, the Musikinstrumentenmuseum Berlin, the Lindeman Hall Oslo and the Festival East-West at the Philharmonia of Zielona Gora and in 2005 was awarded a prize at of the Norwegian Composers Association. In September 2006, it will perform the world premiere of Rodion Shchedrinĺs ôHommage a Chopinö at the Konserthus Oslo. In 2006, two CDs with first recordings of music for two pianos eight hands have been released: ôRussian Romanticismö with works by Tchaikovsky, Balakirew and Glazounov (Naxos), and ôWorks for 4 Pianistsö with Norwegian compositions from the 20th and 21st centuries (2 L).