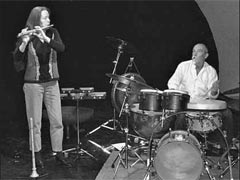 Katharina HILPERT
(flute, flautophon, schalmei)
Gunter Baby SOMMER
(percussion)
The music performed by this duo is based mainly upon improvisation which may overcome composition's frontiers. Both musicians used to play modern and ethnic music and jazz as well.
Ms. Katharina Hilpert, born in 1962, started her activities as a participant of musical and theatrical productions. In 1980–1981 she went to Spain and France, and learned the flute at the conservatoire of Granada. Since then she has participated in a number of projects, sometimes together with painters and sculptors.
Gunter Baby Sommer, born in 1943, is now one of the leading European percussionists, who has a command of a wide spectrum of instruments. Since 1985 he has enriched his playing conception through cooperation with dancers and writers such as Gunter Grass and Christa Wolf. He also produces theatre music, but at the same time performs with various groups as a soloist.