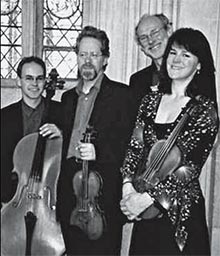 Lucy RUSSELL (violin)
Jonathan SPAREY (violin)
Alan GEORGE (viola)
Andrew SKIDMORE (cello)
Founded in 1968 by four Cambridge undergraduates, the Fitzwilliam quartet was one of the first of a long line of distinguished quartets to have emerged under the guidance of Sidney Griller at the Royal Academy of Music. They originally became well known through their close personal association with Dmitri Shostakovich, who befriended them following a visit to York to hear them play. He entrusted them with the Western premieres of his last three quartets, and before long they had become the first ever group to perform and record all fifteen — complete cycles were given in a number of major centres, including London, New York, and Montreal. These achievements secured for them a long term contract with Decca, which embraced some aspects of late Romantic repertoire — including Franck, Delius, Borodin, and Sibelius — before they embarked on a Beethoven cycle. Their recordings have gained many international awards, including the very first Gramophone Award for chamber music, in 1977. Their Shostakovich series (recently rereleased) is included in the same publication as their "Hundred Greatest-ever Recordings". A world-wide concert schedule has taken them across Europe (including USSR/Russia), North America, Africa, and the Far East.