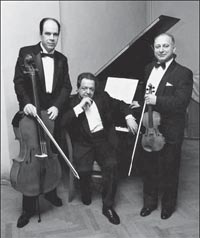 Peopleĺs Artist of Russia
Alexander BONDURIANSK (piano)
Peopleĺs Artist of Russia
Vladimir IVANOV (violin)
Peopleĺs Artist of Russia
Mikhail UTKIN (cello)

This is one of the worldĺs leading chamber ensembles and has performed in more than 300 cities of the former USSR and in 45 countries worldwide, from Argentine to Japan, and Norway to Egypt. The musicians have had excellent training in ensemble play in the class of Professor T. Gaidamovich.
The Moscow Trio is a prize-winner of international competitions in Munich (1969, II Prize), Belgrade (1972, I Prize), Budapest (1975, I Prize), and Bordeaux (1976, Golden Medal of Maurice Ravel).
The repertoire includes more than 200 works, a great number of concert programmes e. g. ôPiano Trios by Russian composersö, ôHistory of Genreö, ôPiano Trios from the Age of Romanticismö, ôAll the Works of Beethovenö, monographic programs about Mozart, Schubert, Mendelssohn, Brahms, Rachmaninoff, Schostakovich. Accompanied by symphonic orchestras the ôMoscow Trioö performs triple concerts by Beethoven, Casella, Martinu, Tcherepnine, Tchaikovsky, and Nikolaev.
The Ensemble provided Moscow premieres of forgotten masterpieces by Clementi, Brahms, Schubert, Clara Schumann, E. T. A. Hoffmann, Grieg, Donizetti, Debussy. The musicians gave the first performance of a youthful trio, op. 8 by Schostakovich which had not been heard in Moscow since 1925.
The Trio was awarded the Prize of Moscow (nomination literature and arts).