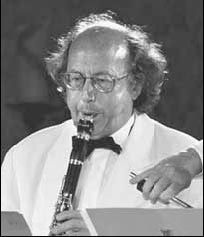 Graduated from the Conservatoire de Paris being awarded with the 1th Prize for chamber music performances. Those at the Belgrade competition have followed this prize. His debut in Carnegie Hall took place 1980, since then Mr. Lethiec successfully performs in many countries.
The clarinettist played with world-known companies as English Chamber orchestra, L'Ensemble Orchestrale of Paris, "St-Martin-in-the-Fields", Israel Chamber orchestra, Salzburger Mozarteum, such Quartets as those of Talich, Prazek, Enesco and Ysaie. Recorded about 20 CDs — two of them: "L'Asquese" by Jolivet and "Les Contrasts" by Bartok were awarded with Superior Prize of the French Critics.
In 1996–1998 Mr. Lethiec taught at the European Mozart Academy, he also gave master classes in Boston, Tel Aviv, Shanghai, Moscow, and Petersburg. Since 1981 he had been taught the clarinet in the Conservatoire of Nice, but since 1994 — in the Conservatoire Superieure in Paris. Mr. Lethiec is also art director of the Pablo Casals Festival in Prades.