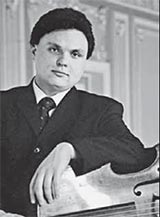 B orin St. Petersburg, in 1999 he graduated from the Conservatoire where he had studied under Professor Anatoly Nikitin. From 2002–2003 he undertook a special course in Moscow Conservatoire with Professor A. Rudin. He is a prize-winner in competitions in Russia and abroad.
Since 1997 he has been leader of celli in the First Philharmonia orchestra of St. Petersburg. As a soloist he has performed concerts by Dvorak and Shostakovich, with this company, and took part in the premieres of the works of Shchedrin.
Since 1999 he has been a lecturer at the Conservatoire.