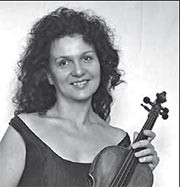 Born in Leningrad, she graduated from the Special Secondary School of Music, then from the Conservatoire where she studied under Professor Vladimir Ovcharek. She took a special course in Guilhall School, London under Professor I. Nyman and worked on her Doctorate at the Conservatoire Amsterdam under the guidance of Professor Victor Lieberman.
She if a prize-winner of various international competitions and festivals, and has scholarships from different foundations in the Netherlands and Germany.
She is also active concert and pedagogic activities in Russia and abroad, and was the first performer of some violin concerti by Russian and foreign composers. Now she is a professor at the St. Petersburg Conservatoire.