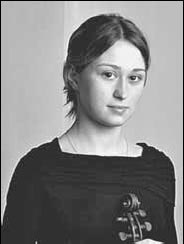 B orn in Kaliningrad, she started to learn the violin at the age of 3 but at 14 she graduated from Kaliningradĺs R. Gliere musical school.
In 1998 she graduated to the Secondary Musical school at the St. Petersburg conservatoire (in the class of Professor A. Kazarina), then went on to study in the Conservatoire itself. She has been a participant in various Russian and international competitions.
She performs as a soloist and as a member of the Junior Mariinsky theatre orchestra.