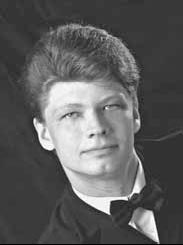 He is now in his third year of studies under the Merited Artist of Russia, Professor V. Lebed at the St. Petersburg Conservatoire.
Since his first year of studies he has taken part in various performances of the Conservatoire theatre, and appeared on different stages in St. Petersburg and Russia.
He has also performed in the Royal Theatre of Glasgow as well as the Edinburgh Festival Theatre, where he sang the part of Pandolf in the opera ôLa Cendrillonö by Massenet.