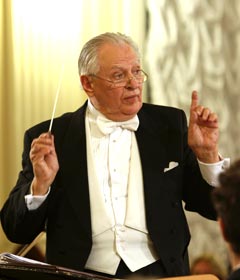 conductor (Lithuania)
Saulius Sondekis is one of the prominent conductors of modern times. He conducted the Leningrad Philharmonic for the first time at the invitation of Yevgeny Mravinsky. Since then he has performed with the worldĺs best orchestras Ś the Tchaikovsky Symphony Orchestra, the USSR State Symphony Orchestra and the Mariinsky; ORTF, LĺOrchestre Nationale de Belgique, Toronto Philharmonic et al.
Mr. Sondeckis was the first Lithuanian conductor to have the honour of performing at the Salzburg Festival (four times!), and of conducting the Berlin Philharmonic and the Leipzig Gewandhaus. The Lithuanian Chamber Orchestra was founded by him in 1960 and became well known throughout the former Soviet Union. In 1976 it was recognized as one of the best orchestras in the world after receiving the Gold Medal at the International Junior Orchestras Competition in Vienna.
In 1993 he conducted a unified orchestra of Prize Winners in Davos, Switzerland, then the Junior Orchestra founded by Leonard Bernstein at the Schleswig-Holstein Festival. Critics of the time wrote unanimously that Sondeckis had to be the new head of the Chamber Orchestra of Europe.
Besides establishing the Vilnius Chamber Orchestra, Mr. Sondeckis has also founded the St. Petersburg Kamerata (now the State Hermitage Orchestra), and the Orchestra of Patras, Greece.
Among the conductorĺs favourite composers are first of all, Bach and Mozart, as well as contemporaries: Schnittke, Pńrt, Shchedrin, Vasks, and Slonimsky.
The wide recognition of Sondeckisĺs creative merits has been confirmed by many awards and titles such as Peopleĺs Artist of the USSR (1980), USSR State Prize Winner (1987), Lithuanian Government Prize Winner (1998), and Prize Winner of the Lithuanian National Prize (1999). He has also been decorated with honours by many different countries in the world.