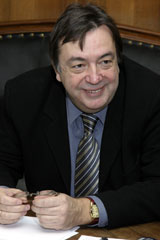 People's Artist of Russia and Russian Federation Artist of Merit Alexander Tchaikovsky was born in Moscow. He graduated from the Moscow Conservatoire in the composition studio of T.N. Khrennikov, and in piano performance in the studio of H. Neuhaus and L. N. Naumov. He is rector of the Saint Petersburg Conservatoire, artistic director of the Moscow Academic Philharmonic, and artistic director of the Youth Academy of Rus sia festival.
In 1985 Alexander Tchaikovsky won first prize at the Hollibush Festival international composers' competition in New Jersey, USA, and was principle guest composer at festivals in Halifax (Canada), and Bad Kissingen (Germany).
Alexander Tchaikovsky's music is widely performed at prestigious international festivals and in the largest concert halls in Russia, Europe and America. His principle compositions include four symphonies; twelve concerti for various performers; the ballets "Revizor", "Broneno sets 'Potemkin'", "The Queen of Spades"; the operas "Three Sisters", "Faithfulness", "Grandpa Laughs", "April Second", "Winter Tale"; orato rios and chamber compositions. In addition he actively works in applied genres—the "lighter music" sphere. He is author of the musical "Grekhovodnik", the operetta "Provintsialka", chamber comic operas "Tsar Nikita and Forty Daughters", "Motya i Savely — Mozart i Salieri", and music for movies and television programmes. One of his latest compositions "Russian Requiem" is an oratorio for solo ists, children's nd mixed choir, and large symphony orchestra based on the poetry of F. Tiutchev, S. Esenin, A. Blok, I. Brodsky, N. Zabolotsky, and the Psalms of David.