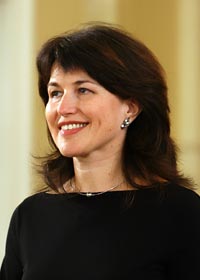 B orn in Odessa on the Black Sea, Victoria Mushkatkol made her concert debut with the Kiev Philharmonic Orchestra at the age of ten. After graduating from Kiev Music School for Talented Children, she went on to study at the St. Petersburg Conservatory with Professor Vladimir Nielsen, one of Russiaĺs most eminent piano teachers, to graduate from the Conservatory with the highest honors.
Victoria Mushkatkol established herself as a versatile international performer, appearing in recitals and chamber music concerts throughout the United States, Europe and Asia. Equally at home, she performňd for the Thai Royal Family in Bangkok or in Peopleĺs Republic of China, her travels have taken her to Japan, Taiwan, Singapore, Korea, Thailand and Brunei as well as to Spain, Czech Republic, Yugoslavia and the Netherlands. Her performances have been broadcasted by radio in states of California, Illinois and Michigan.
As an internationally recognized teacher Ms Mushkatkol worked at the faculties oft the Interlochen Arts Academy and the Oberlin Conservatory. She has presented master classes throughout the US, Europe and Asia. Currently Victoria Mushkatkol resides in New York teaching in Juilliard School.