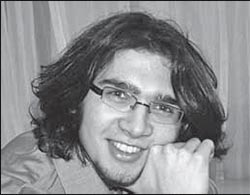 R oman Rabinovich, born in 1985 in Tashkent, Uzbekistan, began his piano studies at the age of six with his mother. In 1994, he and his parents moved to Israel. There he studied with Professor Arieh Vardi at the Rubin Academy of Music in Tel Aviv. In 1995, Rabinovich performed 11 concerts in five major American cities. At age 10 he made his Israel Philharmonic Orchestra debut under Zubin Mehta.
Mr. Rabinovich is a winner of the Frank Peleg Piano Competition, the annual Tel Aviv Music Academy competition, and second prize at the Olga Coussevitsky competition in NYC, the young orchestral soloists of the Delaware Symphony competition. He has participated in international festivals such as Mozarteum in Salzburg, Austria, Felicja Blumenthal Festival in Tel-Aviv, Israel, Verbier Academy in Switzerland, and All-Israel Festival.
Roman Rabinovich currently studies at the Curtis Institute of Music with Seymour Lipkin and Claude Frank.